The best way to protect your vehicle's value and ensure that it functions well for many years is to maintain it properly at regular intervals. Our Surprise Ford service team have answers to frequently asked automotive service questions.
Can I Service a Vehicle With Surprise Ford Even if I Didn't Buy Here?
Surprise Ford will provide service for vehicles of any make and model, regardless of where you purchased your vehicle. You will get the same attention and service for your vehicle no matter where you originally bought your car.
How Often Does Ford Recommend an Oil Change?
It is recommended to get your oil changed every 6 months or 5,000 - 15,000 miles (depending on oil type). Talk to our service center about scheduling a routine oil change for your vehicle. Look at your owner's manual to determine when you should get an oil change for your vehicle.
Do I Need an Appointment, or Can I Just Show Up?
It's easy to make an appointment online or by calling the service center. To avoid a wait, schedule an appointment for a time that is convenient for you. If you have an emergency repair, we will work hard to get you in for service on the same day. If you are nearby and have an emergency with your vehicle, show up and see if we are able to get you back on the road.
Do You Have Loaner Vehicles?
We are not offering leaner vehicles at this moment in time.
Do I Have to Pay For a Recall?
Recall repairs are generally covered by your auto manufacturer. If your car has been recalled for any reason, contact us right away to set up an appointment for service. It's important to take care of a recall as soon as you are made aware of the problem. If you receive a recall notice in the mail, schedule to get service immediately.
When Should I Replace My Tires?
Tire life varies depending on tire type, mileage, and driving conditions. Tires can last three to four years, or about 35-45,000 miles. If you don't drive that much, you will still need to replace your tires every four years or so because rubber eventually breaks down. If you have minimal tread on your tires regardless of age, it's time for a tire replacement. Check your tires periodically to look for damage, wear, and tear, or bubbles. Using a penny, check your tread. If you can see Abraham Lincoln's head, the tread is too thin.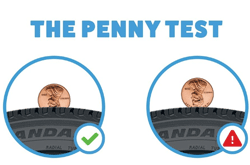 Make an Inquiry
* Indicates a required field
Service Hours
Monday

7am-6pm

Tuesday

7am-6pm

Wednesday

7am-6pm

Thursday

7am-6pm

Friday

7am-6pm

Saturday

7am-5pm

Sunday

Closed