Nobody wants to get stuck with a vehicle that won't start due to a faulty battery. Steer clear of this heart-dropping feeling by having your car, truck or SUV routinely inspected for battery problems.
If it has been a while since you've had your battery serviced, don't wait any longer. Schedule an appointment online today, and our team of service professionals will test your battery to make sure there are no problems with it.
If an issue is detected, you'll be happy to know that we offer affordable pricing on a wide range of batteries. Keep reading to learn about the basics of battery maintenance and how to look for signs of car battery failure.
When Should I Have Car Battery Service?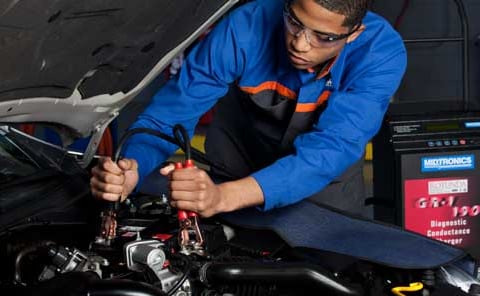 Car batteries can last up to four years. However, this will depend on where you drive and how well your vehicle's battery has been cared for. If you drive in very hot places, like Surprise, Arizona, you may find that you'll have to replace your battery much sooner, as extreme heat can deteriorate a battery faster. No matter the case though, it is always best to have your battery inspected every time you have your oil changed or every 3,000 to 6,000 miles.
How Do I Know It's Time For A New Battery?
Do you find yourself in need of a jump start on a regular basis? If so, then you'll probably need a new battery. Here are some others ways to determine that it is time to get a battery replacement in Surprise:
Battery or check engine light is on
Interior and/or exterior lights are unusually dim
Power windows are abnormally slow
Battery casing appears swollen or bloated
Where To Go For A Ford Battery Replacement Near Me?
At Surprise Ford, our customer's come first. From outstanding customer service and high-quality car care to service coupons and affordable pricing on all your automotive needs, we are your go-to Ford dealership. To learn more about the services that we provide, please contact us, and one of our friendly associates will be happy to answer all of your questions. We look forward to serving you!