Imagine that it's 90 degrees outside and you decide to take your family on a mini-road trip. It might be 100 miles and back to your destination and home, but it's going to get hot along the way. Everyone piles into the vehicle, laughs, discusses what they hope to see, and you crank up the AC to get things comfortable for everyone. A gust of warm air greets everyone, and now it might be time to roll the windows down for what might be a very uncomfortable breeze in the vehicle during the trip. Or you might just get out of the car and call someone here to see about getting your AC checked immediately. The wise person will call our dealership to schedule a service appointment. Operating an AC when it's not working very well can sometimes damage the unit to the point that it needs to be replaced, and that can get very expensive. Wise folks regularly maintenance their AC and then bring in their Ford vehicle for service whenever the AC isn't working the way it should. Here's why.
Why is my AC blowing out warm air?
Air conditioning units are designed to remove warm air and replace it with fresh, cool, and comforting air, but they don't always work that way. When components in the AC unit begin to become damaged, they often stop converting that warm air into cool air. There might be several reasons for this. The first, simple reason is that your AC might need new coolant. That means putting fresh coolant into the AC so that it can do its job. Another component, called a cabin filter, can get worn out as you use the AC more. The more you use your AC, the more likely it is that you might need a new cabin filter in your AC. Sometimes leaks can cause corrosion of some AC components, and this can mean you need to both stop the leak and deal with the damage that it has caused. All of these things are reasons to drop your Ford car, truck, or SUV off at our dealership for service.
Why is there an odor coming from my AC?

Sometimes the AC might blow out cold air, but instead of smelling fresh it smells musty (sometimes described as gym socks or other unpleasant things). If you smell this, it could be the result of a leak in your AC that has caused your components to become corroded. This can give off a very unpleasant odor. Sometimes an old cabin air filter might give off an unpleasant odor, too, and that's why so often we need to replace those for our customers here at our dealership. Once you get a new cabin filter or find out the new parts you need, your AC will start smelling fine again.
My AC isn't blowing out air at all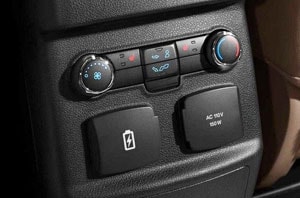 Blockages sometimes cause the fan not to rotate or other components not to start working at all. It might be blockage due to mold buildup or bacteria buildup that formed because of a bad leak in your AC. Sometimes leaks can go undetected and do massive amounts of damage to your Ford AC unit. If this happens, it's time for a trip to our service center!
Our service center has certified technicians who have been working on AC unit for decades. They know how to pinpoint problems and fix them quickly. If you're experiencing any of the above issues or other issues, give us a call to schedule a service appointment today.
Service Hours
Monday

7am-6pm

Tuesday

7am-6pm

Wednesday

7am-6pm

Thursday

7am-6pm

Friday

7am-6pm

Saturday

7am-5pm

Sunday

Closed