What's New for the 2022 Ford Maverick?
If you're looking for a smaller pick-up truck that doesn't compromise with the performance it offers, the new 2022 Ford Maverick is a top contender. The truck has a crossover platform and is built to have 8.3 inches of ground clearance. It even has the ability to tow 2,000 pounds and can haul up to 1,500 pounds in its bed.
2022 Ford Maverick Trims & Features
When you choose to own the 2022 Ford Maverick, the next step will be to select between the XL, XLT, and the Lariat trims. Many hidden storage compartments can be found in both the front and backseat, making it easy to have enough room for items that are out of sight. A Ford Integrated Tether System also features multiple tethers for transporting more items and keeping them secure while traveling. Some of the top features that come standard in each trim includes Android Auto, Apple CarPlay, and an 8-inch infotainment screen on the dashboard. Built-in wifi is one of the top standard features you'll find in every trim to ensure you can stay connected to the internet.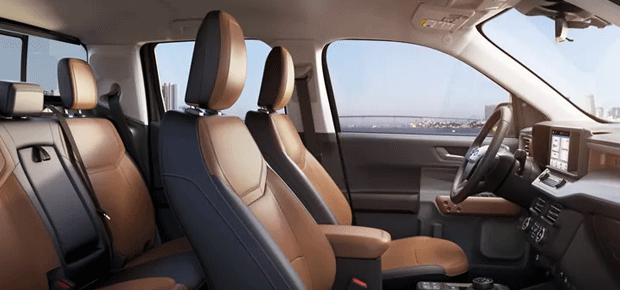 2022 Ford Maverick Horsepower
With 250 horsepower, the 2022 Ford Maverick accelerates quickly and is built with a 2.0-liter turbo I4 engine. It even delivers 277 lb-ft of torque. Those who select the 2.5-liter hybrid I4 engine can expect to get 162 horsepower with 155 lb-ft of torque with a CVT transmission.
2022 Ford Maverick Safety
There's a long list of safety features that come standard in the new 2022 Ford Maverick, which includes automatic emergency braking for increased stopping power. Automatic headlights also come with the car and increase the visibility on dim roads at night. Forward collision warning is an additional safety feature that accommodates the driver and offers accountability.
You also have the option of upgrading to blind-spot warning, rear cross-traffic warning, and adaptive cruise control when traveling long distances. While sitting in the driver's seat upfront, there aren't many blind spots present due to the large windows and smaller body on the truck.
Visit Us in Surprise Today
Reach out to us today when you want to learn more about the 2022 Ford Maverick to discover if it's the right vehicle for your needs. You can schedule a test drive and also explore our broad inventory of vehicles available to our customers.
Ford Maverick Inquiries
* Indicates a required field