2015 Ford Focus Reviews from Surprise Ford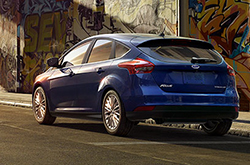 2015 Ford Focus reviews reiterate that the Focus is the best-selling nameplate in the world.  As the saying goes, if it ain't broke, don't fix it, and for the 2015 edition, Ford wisely made only small changes to this popular compact. Go see the 2015 Ford Focus in Surprise, and you will note only a few tweaks. The front and rear have been re-styled, and the interior, infotainment and driver-assistance tech have been upgraded. Since the Focus is already the leader of the pack, there is little enough to do to make an outstanding car much better.

The base engine is a direct-injected 160-horsepower 2.0-liter paired with a five-speed manual or six-speed dry-dual-clutch automatic, but the award-winning 1.0-liter EcoBoost three-cylinder is optional. The sporty ST trim retains the 2014 model's turbocharged 2.0-liter four-cylinder EcoBoost engine cranking 252 horsepower and 270 pound-feet of torque.  With a six-speed manual transmission, the ST is capable of track-worthy performance. An electric Focus sedan is also available that can reach a top speed of 84 MPH and has a short 4-hour recharge time when using a 240-volt charging station.

Though it already has a great reputation among enthusiasts for its handling, 2015 Ford Focus reviews say the new electric power steering and improved rear suspension will proved a more connected road feel. Some additional noise-dampening strategies also promise a quieter ride.

Inside, the Focus provides a high-tech feel with satin chrome accents, and improved storage areas in the form of a redesigned center console and glove box. The Focus also carries a tradition of safety, and the rear-view camera adds to the complement of standard safety features for the 2015 models. Optional safety features include blind spot monitoring and lane-keeping assist.

As you'll see, The 2015 Focus, on sale in Surprise, is a roomy, versatile, and refined small car. Offered in a wide range of trims that includes frugal gasoline models, an all-electric Focus Electric, and a high-performance Focus ST that remains quite the performance bargain, the Focus is at the top for good reason.