The Ford Fusion Hybrid offers a high-tech solution to high gas prices. Use less, pay less, enjoy the road more. If you like that philosophy, then the Fusion Hybrid should be on your shopping list.
What Interior Features are Available in the 2018 Ford Fusion?
Affordable, the Fusion Hybrid doesn't skimp on the good stuff. The driver has a ten-way power chair, a tilt-telescopic steering wheel, push button start, and a rotary gear shift dial. The front passenger has a six-way power chair. Both positions can set their own programmable thermostat. Rest assured, the back seat has plenty of wiggle room thanks to the generous 102-cu.ft. passenger cabin.
High tech, this hybrid offers a touchscreen with the latest Sync 3 capability. Drivers can find a world of music using the streaming audio system. The regular Sync system has advanced voice commands which makes it easy to use. If you want more, you can get the navigation system. You will spend less on gas when you don't waste time by getting lost.
Modern Safety Systems Help Protect Loved Ones
Ready to protect, crash avoidance systems are available on the Fusion Hybrid. Drivers can get an emergency autobrake to reduce the chances of accidents. Regular commuters will appreciate the help of a blind spot monitor, adaptive cruise control, and active park assist.
Speedy, the hybrid powertrain generates 188 horsepower. It uses a combination of hybrid power and gasoline engine power to create this output. You can bet it is competitive with other sedans this size.
What Is the Estimated Fuel Economy of the Fusion Hybrid?
Thrifty, this car keeps costs low by earning an estimated 43 mpg* in city driving for the 2018. Coupled with 41 mpg* on the highway, these hybrids claim 42 mpg* combined gas mileage.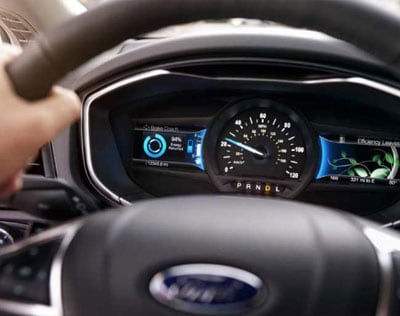 How Does This Save the Owner Money?
The average car earns 25 to 27 mpg combined. A few are earning gas mileage in the 30s, and typically city fuel economy is much worse than highway fuel economy. Since the Fusion Hybrid numbers are estimated in the 40s, it's easy to see that it will reduce fuel use considerably.
In another example, the Fusion Hybrid has a top range of 588 miles. This is particularly significant because it has a 14-gallon fuel tank. A more typical tank would be 16 gallons or larger. That regular car with 25 mpg fuel economy could go 412 miles before it would have to stop for gas. That's a difference of 175 miles before you factor in two extra gallons of gas.
Take a Test Drive Today!
If high gas prices have you worried, step away from the stress. Take a test drive in the Ford Fusion Hybrid. The staff at Surprise Ford can tell you more about this exciting high-tech sedan.
* Based on 2018 EPA mileage ratings. Use for comparison purposes only. Your mileage will vary depending on how you drive and maintain your vehicle.