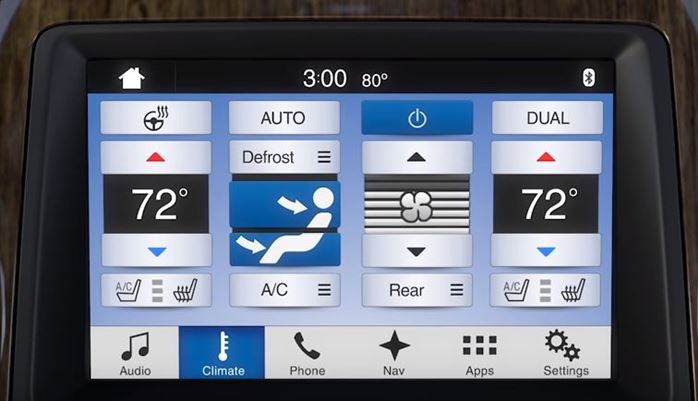 The Amazingly Convenient Features of the Sync® 3 Climate Control System
Ford is known for its sleek design, stylish looks, and great track record. Now, new technology has been introduced to make life even easier. The Ford Sync® 3 system serves many purposes; however, this information will focus the climate control features. Being able to control the vehicle's climate on the touch screen display helps to provide for a more convenient and functional layout. It's also useful for the passenger, as you're able to control either the entire cabin or separate sides of the vehicle.
The Ford Sync® 3 and it features combine the best in technology and functionality to turn this into a multi-tasking powerhouse that you'll enjoy for years to come. We have many models to choose from and the inventory is constantly being updated, so you'll want to stay in touch to get the best possible deal on a new or pre-owned Ford with Sync® 3 climate control.
Additional Functions of the Ford Sync® 3 Climate Control System
With the Ford Sync® 3 climate control system, you're able to control the flow of air, recirculate the air, and expand the menu to pop out for even more selections. You'll be able to defrost the front and rear windshield with the touch of a button that's both convenient and easy to see. What's even better is the added safety of not having to take your eyes off the road by looking down for climate control buttons. Added safety is always comforting, especially for those with children. Voice-activated controls also help to improve safety.
Auto settings save you time and fuel by keeping the cabin at a constant temperature. The system starts and stops as needed to maintain the temperature. Heated and cooled seats controls are also displayed for vehicles with these features. No matter what your climate control needs, the Ford Sync® 3 system has blended function, safety, technology, and convenience into one attractive touchscreen display.
Check Out the Ford Sync® 3 Climate Control Features for Yourself
Surprise Ford is so confident that you'll love the new Ford models and Sync® 3 technology, we'd like to invite you to come in for a test drive. You'll be able to test out all the climate control and other features the system has to offer. Incentives and promotions sweeten the deal even more. It's never been a better time to own a Ford car, truck, van, or SUV. With so many great features available on all our models, you'll wonder how you've gone so long without a new or pre-owned Ford. Give us a call, stop into our showroom, or contact us online to find a great deal on a Ford today!