It's a new era of driving we're living in, and Ford is ushering in this era with what many consider to be the most advanced suite of driver-assist technologies on the planet. Ford is giving us a resounding number of proofs that this claim is not just true but undoubtedly true. What's Ford bringing to the table that no one else is getting right these days? Let's take a quick look.
Which Driver Assistance Technologies Has Ford Created?
Co-Pilot360 brings driver-assist to a whole new level with features like the rear-view camera, auto emergency braking, blind spot information system, and lane keeping system. You'll notice the combination here and the way that it all falls under the umbrella of Co-Pilot360, not additional features you have to pay for by purchasing higher trims or optional features. You simply get it all when you get Co-Pilot360, and this gives you a remarkable value.
Are Many Vehicles Coming with Co-Pilot360?
If you're interested in the Co-Pilot360 system, you're going to find them on a host of modern Ford vehicles. The newer the vehicle is, the more likely that it will have a Co-Pilot360 suite on it. Perhaps the biggest reason that this is important is that it shows just how far driver-assisted technologies have come over the years. For example, even 20 years ago, you don't have things like touchscreen dashes, driver-assisted technologies that involve braking, or anything much beyond cruise control. Today there's stop and go assist that helps you in stop and go driving situations and doesn't just put you in a situation where your vehicle can go 60 on a highway without you having to do much.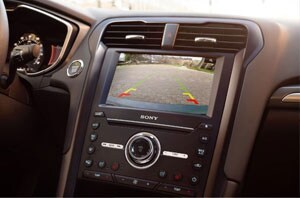 Ford brings everything together in Co-Pilot360, making for the most advanced system. Not only do you get the camera angles you need to deal with blind spots and areas behind your vehicle, but they also give you the vital stop and go technology that allows you to feel comfortable in very close quarters with other vehicles. Bringing all of this together in one place is going to revolutionize the talent of driving over the years, and better still, it's going to help people avoid so many accidents without having to lose valuable drive time by stopping and going on a short attention span.
We all know how boring those driving situations are. And best of all, it's also going to help people who are new to the world of driving - teenagers, namely - avoid situations where accidents used to be common. It's a whole new world, and Ford is doing a great job of ushering in the era of driver-assist tech.
Test Out Co-Pilot360
If you have any questions about which of our Ford models have Co-Pilot360, it's time to contact us and ask! Or you can give us a call and discuss the tech with us. We love to gab about the latest technology features, and we appreciate the opportunity to share our enthusiasm about one of the most delightful driver-assist apps and tech yet. Whether you want to focus on the whole suite or zone in on a feature like automatic emergency braking, we're here to take your questions and accurately answer them when it's convenient for you.