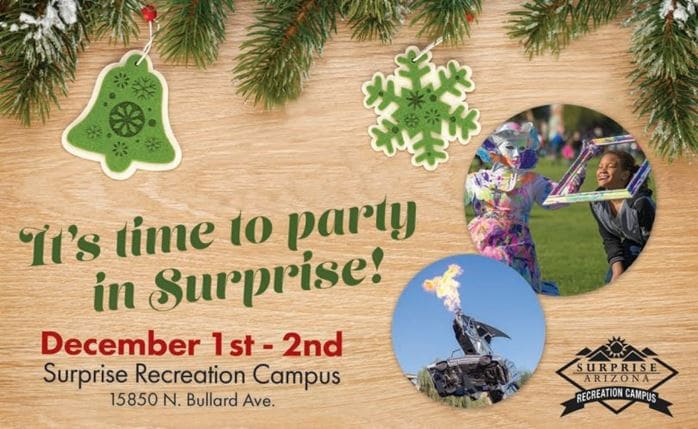 The Christmas season is a special time of the year, and to help you make the most of this jolly holiday, you'll want to mark your calendars for the upcoming "It's time to party in Surprise!" event on Friday, Dec. 1 and Saturday, Dec. 2.
From 5 p.m.-9p.m. on that Friday, crowds of people will converge on the Surprise Recreation Campus to take part in a wide range of Christmas-themed activities. For starters, guests will get to revel in the sounds of all their favorite holiday tunes during live musical performances by 3 Nations and SMASH. The fun continues with a Balloon Glow, skydivers and a tree lighting ceremony. Ol' Saint Nick will also be on the scene, so don't forget to bring your wish list! The little ones will also enjoy taking part in Santa's workshop, where they can make their very own ornaments that will add a personalized touch to your Christmas tree.
The following day, from 11 a.m-5p.m., guests will get to enjoy all the above attractions, plus an arts and crafts festival, where you'll find some great holiday buys to spruce up your home, a petting zoo, and pony and camel rides for the little ones.
Admission is completely free with the donation of a canned food item or toy. We hope you have a great time. Happy Holidays!